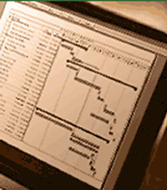 Project Scheduling
An owner must complete numerous tasks that are not tracked by the contractor's traditional construction schedule.
In early project stages, schedule issues are complex and iterative. It is often difficult to determine which activities are critical and therefore should become a project management focus.
ArcPATH Project Delivery prepares and maintains a master schedule using Microsoft Project® that integrates the needs of the owner, user or tenant, design professional, consultants and other team members.